ANIMATIONS

These animations take the form of snowglobes, Christmas trees with blinking lights, and an assortment of moving pictures. Some were created following tutorials I did, while others were just my own ideas.

Small images have been provided to cut down on loading time. When you see something you like, left click on it and it will open in a new window. Then you can right click and "save as" to your own hard drive for future use. Remember as you are saving, that these must be saved as "gif" files to keep the animations.

My only request is that you give me a present by not linking to this page. You are welcome to take anything or everything you want and save to your hard drive for future use. A link back to this site is not required. Merry Christmas.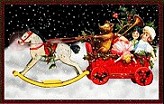 Next
Christmas Menu